YADEA KS5 Adult Electric Scooter Folding Long Range E-Scootor APP Control IP54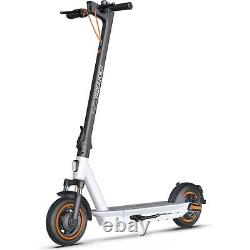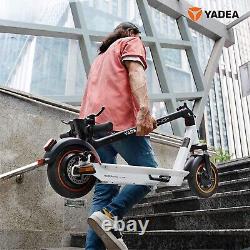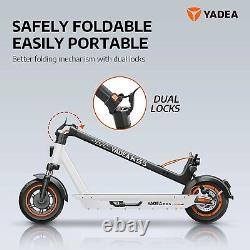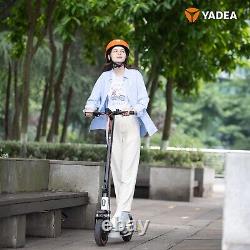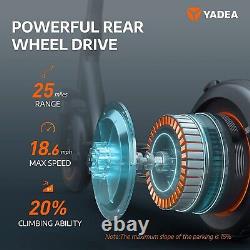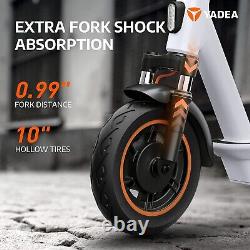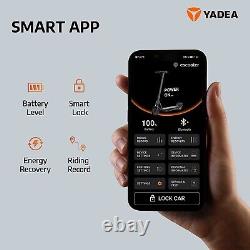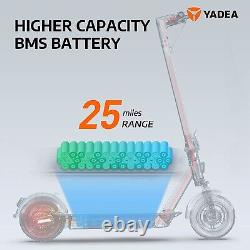 KS5 Electric Scooter Adults, Foldable Commuting Electric Scooter, 3 Adjustable Speeds Max 18.6 MPH, 25 Miles Long Range, Front Suspension, Aluminum Frame. The machine is not brand new, but in Great Condition, Refurbished by professional factory in CA, USA. The E-scooter has some scratches from use, but 100% tested the scooter to ensure its fully functional!
Item Comes with original accessories and packaging. We also provide some brand new pictures above which just to let you see its original appearance, the level of old and new machines is up to whichever you received. The unit has some scrapes from use, but it is fully operational!!
Since the used e-scooter will suffer some wear and tear, the actual value such as battery life, etc. Will be lower than the Original Specification. Premium rear motor and more attentive design. KS5 is an optimized and upgraded electric scooter for commuting and traveling.
With max-power-550W rear wheel motors, the acceleration is fast and stable. Triple brake design and double shock absorption offer a comfortable riding experience. One-button operation is easy and convenient.
One press to switch the speed mode (ECO D S) and two presses to control the headlight. Start your pleasant and safe journey now. Clean, Safe and Reliable Commute: Go Green with the Yadea KS5!
An electric scooter for adults with many excellent features, it travels up to 25 miles, reaches a range of 18.6 mph, and climbs a hill grade of 16%. Lightweight with an aluminum frame and weighing only 41 pounds, it is compact and easy to carry, taking only 2 steps and 1 second to fold it. The KS5 makes your ride smooth and your commute time more fun. Maximum Comfort and Mobility: The 0.98-inch fork shock absorbers greatly reduce discomfort when riding on bumpy terrain.
Our 10-inch maintenance-free hollow tires provide better shock absorption than ordinary tires. Equipped with a powerful rear-wheel motor (350W) and triple braking system, this e-scooter promises smooth control along with a breezy and comfortable ride. Outstanding Safety and Security: The Triple Braking System features a front drum brake, a rear disc brake, and an electric brake. You can stay visible in various environments through the all-directional visibility system, including an LED headlight, a taillight, and four permanent reflectors. Besides, this electric scooter for adults integrates the SBM (Smart Battery Management) system to prevent risks such as short circuits, overcurrent, etc. Smart Control for Optimum Interaction: Through the smart APP, you can monitor battery level, your riding record, energy recovery, and proceed to smart lock your bike remotely. The bright backlit LED display shows the speedometer, current status, power mode, and battery life of the electric scooter for adults via an intuitive interface. Quick Foldable: Equipped with dual safe-lock latches, this electric scooter adults is easy and safe to fold and store within seconds. Even after thousands of lab tests, there is no abnormal shaking of the handlebar or frame joints and the folding mechanism is solid and secure.
Simply fold and store in the car trunk to transport. Easy to Assemble: Simply make sure the high-quality cable on the handlebar is connected to the cable inside the stem, then insert the handlebar set into the folding head tube, keeping the brake facing front. Then just tighten the 6 bolts with a hex wrench. All required accessories are included in the unit.
Please charge the scooter on arrival before you ride it. Please charge your electric scooter before storing it. It is advisable to charge your scooter once every 30 days at least if you store it. 0.98 Fork Shock Absorber. 18.6 mph Max Speed. Max statistics may be impacted by temperature, load, wind speed, road conditions and other factors. YADEA KS5 Electric Scooter(White). 4pcs Hexagon socket flat head screws.
How to download the upgraded version of the App? In order to improve the experience with the app, we optimized and upgraded the app.
Please download the upgraded version of the App "Yadea". How to add the scooter to the app?
Should I charge the scooter before the first ride? How to store it if I do not use it? Why the scooter does not turn on? Please make sure the cable on the handlebar is connected to the cable inside the stem.

---