New Blaze Turbo 2000watt Lithium Brushless 48v 50a Electric Adult Scooter, 40mph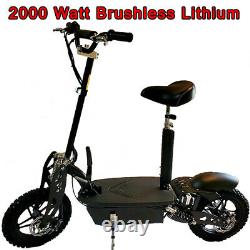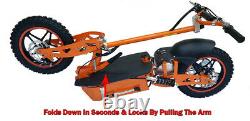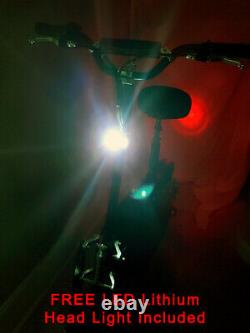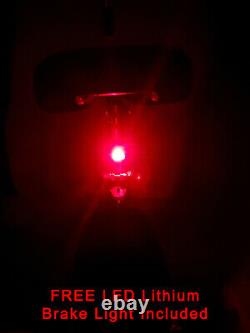 2000 Watts Lithium Brushless Power! Blaze Scooters is introducing the all new 2022 BLAZE Turbo Elite 2000 watt Lithium 48v BRUSHLESS Electric Scooter. This is the worlds fastest 48v stand up / sit down electric scooter in the world, reaching max speeds up to 40 mph and up to 22 miles per charge, 4x the torque of our 1000 watt lithium scooter, which will take a 200 LB rider up any hill with ease (Video Below). We put Huge 14 knobby tires on this beast, dual suspension, dual front and rear disc brakes, which separates this scooter from any other scooter in the world. We added aluminum to the frame making this scooter a lightweight 82 LBS.
Has 20% more torque & 150 more rpm's then our Turbo 1800 watt scooter. This is the ELITE version, so it will come with a FREE LED HEADLIGHTS and a FREE LED TAIL LIGHT on the scooter. We will appear on page 1 of google. On our website you will can see the complete list of parts for this scooter available at all times.
We are located in South Carolina, USA. High Performance UL Listed Lithium Battery Pack 48v 50a 20ah. Only takes 4-5 hours to Charge a dead battery. Bigger Chrome Front & Rear Forks. Rear Dual Shocks (for smoother ride).
Stainless Steel Bolts w/ Nylon Lock Nuts. High Quality Front & Rear Disc Brakes. Huge Knobby road 14 Tires with upgraded aluminum rims. Uses Hi-Tech 2000watt 48v Smart Controller Box. Improved Fuse Housing & Battery Cable Gauge. Extended Frame (6" longer 4" taller then 1000w scooters). Improved Chrome Kickstand w/built-in Shock.
Econo / Turbo Mode Button. Free External Charging Adapter Included. About the Blaze Turbo Elite 2000 watt BRUSHLESS 48v Electric Scooter.
This is not a kid's scooter! The Blaze Turbo Elite Lithium 2000 Brushless scooter boasts speeds up to 40 mph, distance per charge up to 22 miles, and 4x the torque of our 1000-lithium; it can easily be called the Lamborghini of electric scooters.
What is the difference between a brushed and brushless electric motor? The basic difference is: brushless motors are a more advance technology that produce double the power, run cooler, are more efficient, and longer lasting. For a more detailed difference simply Google "Brushed vs Brushless Motors".
It is equipped with a high output UL Listed 48v 50a 20ah LifePo4 Lithium battery; it's 80% stronger and has double the output of the battery we use in our 1000-lithium. This is the Worlds Fastest and Most Powerful built electric scooter. Recommended age is 14 years old and up. 200 lb rider going up a 25 degree incline from take off with ease. Smooth take off & braking from Blaze 2000 watt Lithium Brushless Electric Scooter.
New 2022 Blaze Turbo Elite 2000 Watt Lithium Brushless Electric Scooter Specifications. BRUSHLESS 2000 watts 48 volts of High Torque Power.
Fastest electric scooter ever made. Highest Quality LITHIUM 48v 50a 20ah Lithium Battery Pack (UL listed). BATTERY LIFE is 1400 cycles on average. Charger 2-color LED status indicator. Hi-Tech 2000watt 48v Smart Power Control Box. (varies due to rider weight & terrain). Up to 22 miles (based on 150lb rider, econo speed & flat road).
Disc / Caliper (Front & Rear). Huge 14" x 3" Off / On road tires. Billet Stem - 20 Race Bars. Full Suspension Chrome Mono Swing Design (Front & Rear). 54" x 13" x 20.
View the 2000watt Brushless Lithium Electric Scooter Manual. Our company has been around for over 2 decades.
We know our electric scooters like no other company. We have every single part for our scooters in stock at all times as well as How To Install Videos for all parts if you need it. We take pride in offering very high quality scooters that we constantly upgrade if something new comes out to make it better or faster or safer. We stay one step above the competition on upgrades & nobody in the USA beats our prices as we are able to sell very high volume of these scooters & in return we take less profit. Unlike any other dealer in the USA.
Please do your research & you will see we are untouchable on quality & pricing. FOR ANY QUESTIONS AT ALL. EASTCOAST WHOLESALES, LLC's products (electric/gas motorized scooters) are designed for recreational and/or for personal transportation of a single rider with proper safety equipment. It is not suitable for handicapped persons or persons with limited mentality or physical capacities.
The product is to be used only on safe, dry, smoothly paved or hard packed surfaces, in accordance with local regulations, during daylight hours. Please remember to always wear a helmet!
There are inherent dangers to using motorized scooters. Children may use products under adult supervision and under the guardian's own discretion. Check with your local authorities for area specific rules and regulations. Adult guardian assumes all responsibilities associated with the use of these products by minors. Customers understand that the use of these products can cause injury or death.
To prevent it, we strongly recommend the use of the safety equipment such as helmet and knee pads. Products are not regulated by the U. Department of Transportation as motor vehicles (except the gas series in some states). Therefore, they do not necessarily comply with the Federal Motor Vehicle Safety Standards. It is the customers' responsibility to check with their local authority since the law varies state by state. All product information is provided by a third party and is said to be true to the best of our knowledge. All product information available to us is made available to the user. You must inspect all equipment before using it and to take full responsibility for assuring that the equipment is in good working order and safe to use. You further understand that you are responsible for damage to equipment. Purchaser understands the nature of motor scooter riding and motorcycle related activities and acknowledges that Purchaser is qualified to operate said motor scooter, and is in proper physical condition to participate in such activity.
Purchaser agrees to assume all risks when allowing others to operate Purchaser s scooter. If Purchaser is not familiar with the nature of motor scooter riding, Purchaser should seek professional training before operating a scooter. Scooter riding activities involve the risk and danger of serious bodily injury including, but not limited to, disability, paralysis, dismemberment and death. These inherent risks and dangers may be caused by Purchasers own actions or inaction's, the actions or inaction's of others, participating or not participating in the activity, the condition in which the activity takes place, or the negligence of others. There may be additional risks, including fire due to overcharging a lithium battery or fire due to a lithium charger, social and economic loss, either known or unknown to Purchaser, not readily foreseeable, and Purchaser fully accepts and assumes responsibility for all such risks, losses, costs, and damages incurred as a result of Purchasers participation in scooter riding activity.
Purchaser is responsible for registering and operating the motor scooter in accordance with local and state laws and ordinances. Customers have read and understood the use of these products before purchasing. This shall not act a waiver of any implied warranties which customers retain, as provided by law. We do not cover misuse or broken parts caused by the user or by any other event. The item "New Blaze Turbo 2000watt Lithium Brushless 48v 50a Electric Adult Scooter, 40mph" is in sale since Tuesday, May 8, 2018. This item is in the category "Sporting Goods\Outdoor Sports\Scooters\Electric Scooters". The seller is "blaze-scooters" and is located in Myrtle Beach, South Carolina. This item can be shipped to United States.
Model: BLACK Blaze 2000 Lithium
Non-Domestic Product: No
Type: Free LED Headlight and Tail Lights
Color: BLACK
MPN: 48volt BRUSHLESS electric motor
Brand: 2022 BLACK Blaze Turbo 2000 watt Lithium
Suitable For: ASSEMBLED IN THE USA!



---