Inokim OXO electric scooter for adults 40 MPH, 1000WX2 Motor (1300W Max)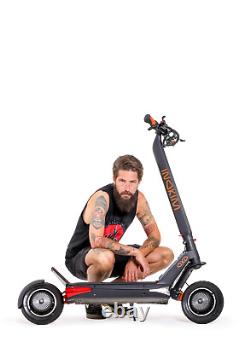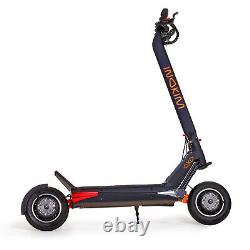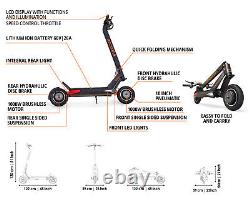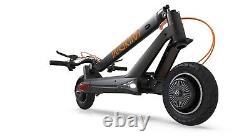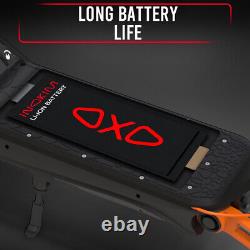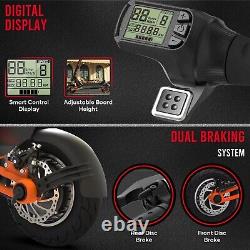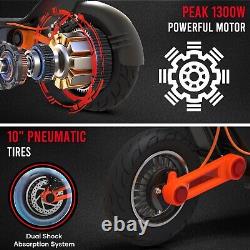 WE ARE PROUD to introduce our sports model, Inokim OXO! The big brother of the family is in its own league in comparison to the other electric scooters.
With improvements in power, ignition, efficiency, momentum, and style, this sits at the top of the heavy electric scooter category. This ultimate scooter combines not only ultimate power and high stability, but also has a unique compact design that is perfectly in line with INOKIM's high-quality standards and innovation. FEATURING the OXO SUPER Suspension Adapter Patent (OSAP) - with the INOKIM exclusive single-sided adjustable suspension system, a rider can adjust the height of the OX - a low setting is perfect for city riding, with lower center-of-gravity for added safety and speed. The high setting is great for off-road, rough terrain riding conditions, offering a soft, smooth, less bumpy ride. 2X1000W BRUSHLESS HUB MOTORS - Powerful Peak 1300W, brushless hub motor propels the electric-powered scooter to a top speed of 31mph with 3 speed modes. The powerful motor provides extra torque to zip you across the city and easily conquer steep inclines in the city or off-road. BATTERY LIFE - Super high-capacity 57.6V 25.6Ah battery offers a max range of to 60 miles and powerful torque for all speeds on a single charge. The battery is reliable for your long-term daily commute or leisure rides. Travel distance may vary depending on rider's individual riding behavior.
Charging time of 2 hours for up to 80% or 6 hours for 100%. ADDITIONAL SAFETY FEAUTURES - Powerful Brakes and visible Lighting system.
The rear disc brake and front drum brake give great stopping power. Front and rear LED lights to ensure clear night-time visibility and ensure you will be seen when riding in the dark.
QUICK FOLDING DESIGN - Easy folding system for enhanced portability. The INOKIM OX folds within 5 seconds with a quick-release lever, automatically locking into place when folded. This allows the scooter to be carried and stored on public transportation, taxi, or car. Best of all, the scooter unfolds just as easily, within 3 seconds, by a simple release of the latch. DUAL SHOCK ABSORPTION SYSTEM - OX SUPER combined with 10-inch pneumatic tires, front and rear equipped with shock-absorbing rocker arms, it takes you to conquer all kinds of road conditions.
We takes great pride in our meticulous attention to detail and ongoing innovation to ensure your scooter will last for many years. 6 LIGHT SYSTEM - The OX SUPER has a 6-light system 2 headlights, 2 side mood lights, 1 tail light and 1 brake light. Using a Lithium-Ion, it is silent and has a powerful engine. The power ratio is controllable and adjusted which divides power into both wheels, keeping the momentum of the ride.
INOKIM OX SUPER has a registered-patent smart braking system that provides outstanding stability making this the best e-scooter in the world. 100% SATISFACTION - Inokim Scooter aims to supply the highest scooter on the market to make everyone enjoy the ride.
At INOKIM we believe in a sustainable, beautiful and peaceful world in which humanity evolves and strives! Here at Inokim, it is our mission and duty to innovate and create sustainable products to keep this planet thriving for future generations.

---