Hiboy S2 Folding Electric Scooter Long Range Urban Commuter 8.5'' Solid Tires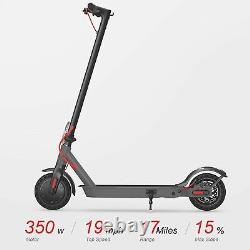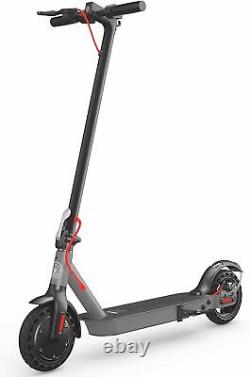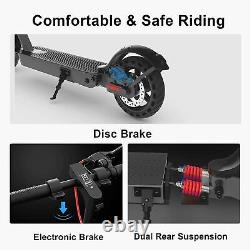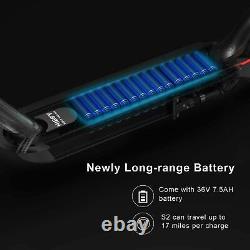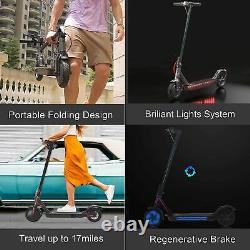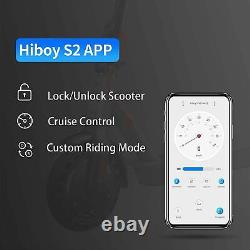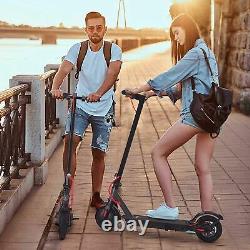 With a long-range 270WH battery, a smooth cruising and accelerating, and a portable folding structure, the Hiboy e-scooter is specially designed to improving commuting experience for more comfortable and efficient. It's also an undeniably awesome way to get around. All the geometric design frame, components and accessories are combined to a simple, elegant, and beautiful e-scooter that is extremely durable and made to look good, work great.
17 Miles Long-range & 19 MPH top speeds. 8.5-inch solid tires & Aluminium Frame. Customized Cruise & Speed Control.
Simply design style looks more gorgeous. Arc-shaped pedal edge and elegant appearance give you a beautiful sense of sight. Every part is under strictly craft process, which provides you a pleasant experience. Made of high-quality aluminum, low density but high strength, corrosion resistant and durable. Characterized by its solid construction, it can withstand the maximum loading weight of 220lbs, but only weights 30lbs. Easy to take with for your daily journey, working, school. Seconds for folding, compact size, convenient to place.
Features anti-slip throttle, even in a long riding, your hand will not slide off it. Retractable accelerator, by gently pressing it, you can control the speed at will. LED Display monitor can show you speed, battery power.
One power button for multiple functions shortly presses it to start the scooter, 2-second press to shut it. Under starting status, one hit to turn on/off the headlight.
Continuous TWO press to shut down the scooter. Super bright headlight with up to 6 meters illumination ensures your safety during a night riding, The red taillight will be activated to warn the follower and vehicle when you brake the scooter. The blue LED lights around the pedal edge make it cool and eye-catching at night. Brake and rear disbrake provide steady stop during emergency braking. The rear dis brake has a drum brake that achieves an efficient braking distance. Stepping the rear wheel cover also can stop riding. Equipped with two large 8.5 inches honeycomb tires, it can go through the flat road, dirt road, rubber speed hump smoothly. Wear-resistant, skid resistant and shock-absorbing. Smart battery charging system, short circuit protection, overcharging protection, etc.
350W brushless motor provides a strong power to propel the scooter to max speed 19 MPH and reach to a far distance of 17mile. Paired with a 350W brushless motor for stable power output. Intelligent power system would automatically reduce your speed to protect and maintain itself. Hiboy Electric Scooter delivers a smooth, safe riding experience.
New S2 can be carried on public transportation, easy storage in car trunks and other compact spaces. NEW S2 electric scooter features disc braking and eABS regenerative anti-lock braking. It can ensure your safety even when you're riding at a top speed of 19 mph.
To turn on the cruise control, just need to hold the throttle for 5 seconds, After hearing a beep, the scooter would maintain current speed. With a 270 WH battery, you can expect a range of up to 17 miles on a single charge, perfect for commuting. Range: tested while riding with a full battery, 150 lbs (68 kg) load, 77°F (25°C), 50% of max. Speed on average on pavement. Benefited by special alloy spring steel, the dual rear shock absorbers offer a smooth and comfortable ride and can be simply tightened or loosed by a wrench for a perfect riding experience. Material: aluminum alloy and ABS. Item Weight: 29.5 lbs. Speed: 19 mph and 13 mph (Double speed modes). Battery: Lithium Ion 36 V, 7.8 Ah. (WARNING: USE ONLY ORIGINAL CHARGER). Battery charge time: 6 hours. Tires: 8.5 inch rubber solid tires. Unfolded Dimensions: 45.7 x 16.5 x 47.2 inches. Folded Dimensions: 45.7 x 16.5 x 19.3 inches.

---