Electric Scooter 350W Foldable With U-Lock 19mph Max Speed 8.5'' Honeycomb Tire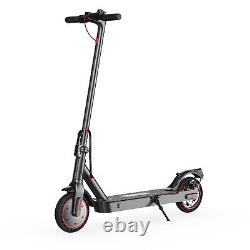 Electric Scooter 350W Foldable With U-Lock 19mph Max Speed 8.5'' Honeycomb Tire. The detailed pictures are just to let you know more about the functions of Kick scooter. Additionally, we have provided some pictures of honeycomb tires. This newly upgraded Kick scooter is different from the old i9 only with tires.
All other functional attributes are the same. Powerful Motor with Large Battery - High capacity Battery with Energy Recycle Technology rides up to 18.6 miles, and Max load of 220lbs. Max output of 350W brushless motor can easily up to Max Speed 15.5MPH and 10%-15% Hill Grade. Full Intelligence & Next-Generation Scooter - Gyroscope Status Detection and Intelligent Speed Control when up and down hills with shock absorption and more stable driving. Intelligence system with APP provides Startup Self-Check, Electronic-Lock, and Riding records memory. Strong Stable & Comfortable Commuting - With Car Level cast Aluminum Body, Strong Stable for High speed and Off-road driving. 8.5-inch High-Resilience Air-Filled tires and like horse-back design, make more comfortable and super cool. All-round Safety Protection - Dual Braking System -A mechanical Disc Braking and e-ABS braking.
Portable Folding & Young People's Scooter - Fast folding and Portable make Car and Scooter, the perfect combination of travel. Have fun with friends, Commuting for Work, to be a young man's electric scooter.
Smart Travel, Dare to Imagine! Newly Upgraded Honeycomb Tires- On the basis of previous pneumatic tires, new upgrades have been made to the tires. Adopting more wear-resistant and durable honeycomb tires can reduce the risk of tire blowout and facilitate your travel.
Frame Material: Automotive-Grade Integrated Die-Cast Aluminum Frame. Max Speed:30km/h(18.6MPH). Endurance: 21km at 70kg riding weight. Brake System:Manual disc brake + Electronic brake.
Tire Size: 8.5 inches front and rear. Speed level: Gear 1--Max 15MPH; Gear 2--Max 19MPH. Mode Type of Motor: Brushless hub motor. Battery Type: High quality lithium battery. Battery Management System: Overcharge, Overheat, Over discharge, Overvoltage, Short Circuit Protection. Charger: 42V 1.5A (CE, UL, UKCA).
Start: zero start + assist start (adjustable in app). Put your foot in the front of the scooter and the other foot on the floor before riding. Make sure that the riding route is smooth. Slide forward with the food standing on the floor before starting (like riding the scooter without power). Immediately press the acceleration button and lean forward to avoid falling over backward due to inertia, so that the electric scooter will enter the working status.
Avoid pressing the handle with your body in the acceleration and deceleration process. Put one foot ahead and the other behind (like on the sliding plate/surfboard, put one foot ahead and the other behind by 70-90 for better comfort). Turning - The turning principle of the electric scooter is the same with that of surfboard/sliding plate/skis. The handle shall be balanced with the body. Observe and make sure that turning is safe before turning. Before riding the scooter, please put one foot on the scooter deck and the other foot on floor and push the scooter forward by kicking the floor for some distance, in this way, the scooter will get some impulse to run forward. 1 X Electric Scooter 1 X 42V 1.5A Charger 1 X User Manual. Please be advised that bulk order may require palletising.
In the event this occurs, the courier will contact you to discuss how to move forward. Please be aware while we guarantee that we will dispatch your order however we cannot be held responsible for any delays with the courier. Please ensure any address changes are updated prior to ordering. We do our best to ensure all of our customers enjoy a happy shopping experience with however occasionally you may need to return an item. Please allow up to 48 hours for a response.
Is your item faulty or damaged? The text descriptions can be different Font Size, Font Color, Style and even graphics and icons are also accepted.

---