36V Adult Electric Scooter Long-Range, City Commuter Folding E-Scooter, Waterproof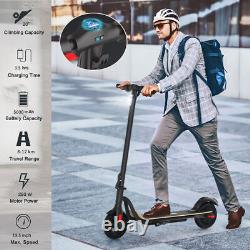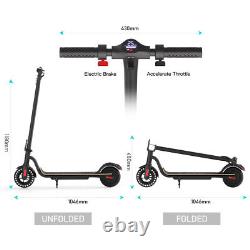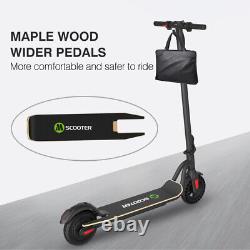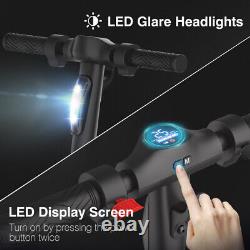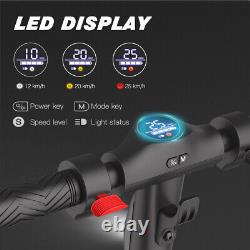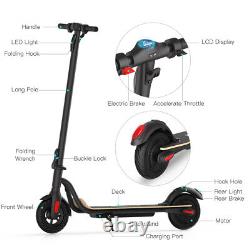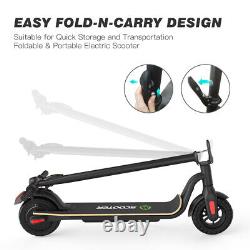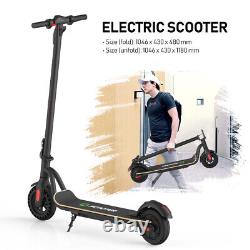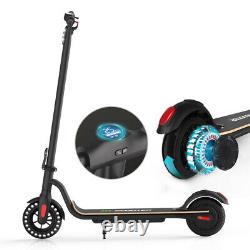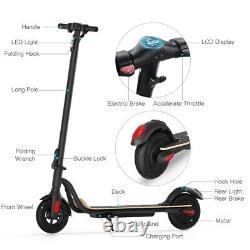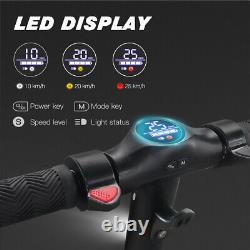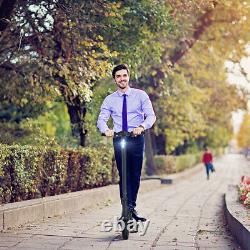 The electric scooter uses 8.0-inch honeycomb shock-absorbing tires with high elasticity and wear resistance. The honeycomb tire does not require inflation, repair, maintenance.
5.2 AH large capacity battery and more battery life? Fitted with 5.2Ah lithium-ion battery, the scooter can provide long full mileage 8-12km, up to 12km range. Full charged for only 4-5 hours, will hold climbing ability 20 degrees. Three gears with headlight & rearlight? Three gears (6.25MPH=10KM/H, 12.5MPH=20KM/H, 15.5MPH=25KM/H), easy to change through a button on the LED display which also shows the battery and the gear clearly.
The low-speed gear prevents teenagers or children from driving too fast. LED Headlight and rearlight double insure your safety at night.
This S10 electric scooter applies dual brake system (a motor electronic brake on the handlebar and a foot friction rear brake on the back wheel) with CE/UL/FCC/RoHS safety certification. The pedal is made of Malleable Maple Wooden, which is more durable. You can easily cross all kinds of roads, reduce bumps and keep you feel comfortable.
The electric scooter applies a none-0 start for the safety consideration, please scroll for a distance to start. Features a bigger and longer deck, a double braking system, a long-range battery, and a One-step portable folding mechanism, the Megawheels electric scooters can bring a smooth and comfortable riding into your way. We provide professional technology support. We have warehouses in the US, scooters can be delivered in 3-7 days. Dimension: Unfolding 105 x 43 x 118 cm; Folding: 105 x 43 x 48 cm.
Tires: 8.0 Honeycomb Front Tire & Solid Rear Tire. Speed level: Gear 1--Max 10km/h ; Gear 2--Max 20km/h; Gear 3--Max 25km/h. Grade Ability: 20 degree slope. Mode Type of Motor: Brushless hub motor. Battery Type: High quality lithium battery.
Battery Capacitiy: 5.2 Ah. Three speeds (10km/h, 20km/h, 25km/h), easily changed via buttons on the LED display, also clearly showing remaining battery and headlight status. With a battery capacity of 5200mAh, this adult electric scooter has a lifespan of up to 8-12km (depending on road conditions and rider's weight), and the charging time is 4-5 hours. Honeycomb tires can prevent tire blowouts.
You can drive freely on any road. You don't have to worry about tire blowouts, it can avoid trouble during driving.
Great scooter for a commute or school. The S10 electric scooters motor has a power of up to 250 W, which accelerates to 25 km/h in seconds. The powerful motor helps you to overcome small inclines of city streets easily. Note: The left and right hand handles are installed in a counter-clockwise direction. You don't have to rush to the crowded bus or underground. This upgraded version of the S10 front wheel needs to be installed by yourself. Lightweight and easy to carry.
Reduce the risk of scooter theft. The installation steps are very simple, if you can't install it, we will guide you to install the front wheel. Before use, please kindly read the schematic diagrams and assembly steps of manual to assemble the front wheel. Step on the base, lift the fork firmly to remove the base. Remove the rubber plugs on both sides of the front fork, and unscrew the front axle with the two 6mm hexagon wrenches in the package.
When installing the front wheel (please pay attention to the direction of the tread of the tire, as shown in the lower right or the inflation port to the right), and tighten the front wheel axle. Plug back the rubber plugs on both sides of the front fork.

---