2400W 48V/20Ah Foldable Electric Scooter Adult Dual Motor 11inch Off Road Tires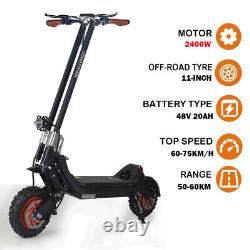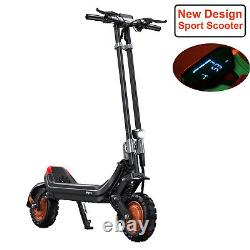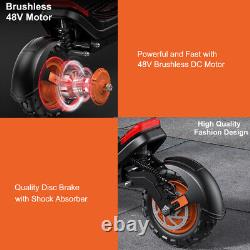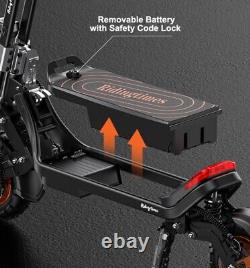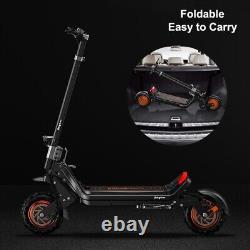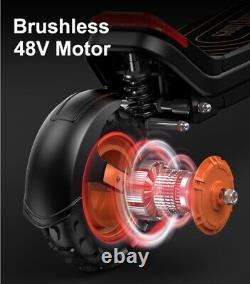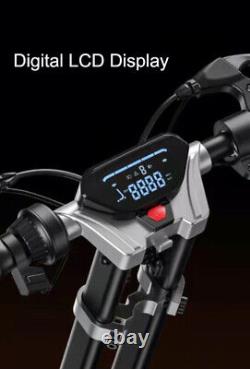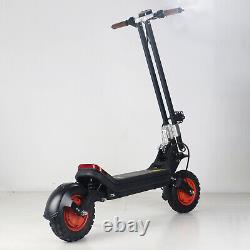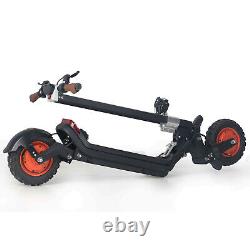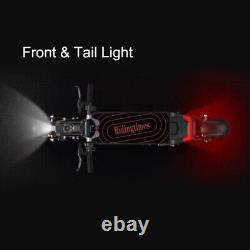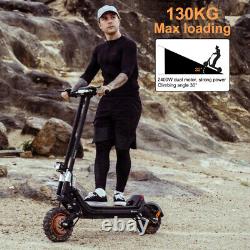 G63 Electric Scooter For Adult Folding E-Scooter 2400W Motor Off Road Waterproof. G63 Electric scooter equipped with DUAL 1200W. Powerful motor and 11 inch pneumatic off-road tires.
Equipped with 48V 20AH Li-ion battery. Even such a powerful scooter can have a range of 35 miles. Easy to remove the design, more conducive to remove the battery, in a more narrow place to charge. The excellent dual braking system and shock absorbers provides maximum rider comfort and improves the safety when riding. Dual Powerful 1200W Brushless Motor.
Featuring LED headlights and taillights. Electric scooter is safe to ride even at night.
The stoplight in the rear automatically turns on during braking for a smart and safe ride. LCD that shows you the speed, speeding modes, the battery time, and the riding time. G63 electric scooter features dual powerful 1200W brushless motor brings faster acceleration and climbing ability to the electric scooter which can reach 40 mph and Max 30% climbing angle. Large capacity battery can reach a travel range up to 35 miles and Max load of 286lbs. Braking is smooth and secure. The excellent dual braking system makes the brakes respond more quickly and improves the safety when riding. The front and rear shock absorbers provides maximum rider comfort. Meanwhile, there are colorful lights on both sides of the electric scooter pedal, so that there are better light prompts at night and improve the personal safety of the driving.
G63 electric scooter comes with wider 11in pneumatic tires, which makes the electric scooter perfect for off-road. Additionally, the electric scooter allows you to ride it on any kind of road with ease. You can take the X3 and stroll peacefully on the urban roads of the city, as well as in the rugged terrain. Easy to fold and portable, it can be easily store into the trunk of a car.
The electric scooter has an LCD that shows you the speed, speeding modes, the battery time, and the riding time. 148cm x 25cm x 50cm. 2400W (1200W 2 Dual Motor). Screws & Wrench 1 set.
We will replace it for you as soon as possible. The seat is optional and is not available by default.
The range is measured at a temperature of about 25? , with a speed of about 19mph, the load used is about 160 lbs and the pavement is flat.
Factors such as driving habit, ambient temperature, road surface conditions, the load used, etc. Please pay ASAP after you submit the order. If you change your mind after submitting the order (Changed mind or have placed an order elsewhere), please take the initiative to close your order, thank you for your understanding. The logistics service provider we use is: UPS. Including but not limited to. If you encounter a major holiday Spring Festival, Christmas... Return products without product quality issues. Unreasonable return is not supported.
Return products for product quality issues. Within 12 months from the receipt, the battery is in normal use. Without man-made damage, and the battery fails for no reason. Damage to the battery caused by the use of non-original accessories.
Failure to protect or inadvertently enter water on rainy days. Damage caused by violent use or violent destruction. Damage caused by irresistible factors such as traffic accidents, natural disasters, wars, etc. Slight scratches on the battery are. Not a product quality problem.
After receiving the goods, if the battery is not used, if you apply for a return for this reason, it will be handled as "return without reason". If you are satisfied with our products. Ive us a chance to serve you. To you within 24 hours. And do our best to help you out!
If you have any problems. Thank you for your understanding!

---